---

The MAG 2017 Mid-Year Conference Provided Timely Education and Broke Records!

The MAG 2017 Mid-Year Conference was held February 15-17 at the Hyatt Regency Atlanta hotel. It was the largest Mid-Year Conference to date with over 400 attendees and 160 merchant attendees. Incorporating a new format, the conference gave attendees increased networking time with MAG members and sponsors. Education presentations accessible to all attendees, can be found here. Education presentations, merchant-only polling results and SIG meeting notes are available for members in the Member Only area of the website. You must login to view. Once logged in, click on "Use Our Resources," "Member Resources," "2017 Mid-Year Conference Presentations and Polling Results."
Hear what attendees are saying:
"Informative. I usually pick up two or three tidbits of information that helps me in my job."
"Loved to see the growth in MYC and all of the merchant and sponsor prospects - really engaged group!"
"This is my second MAG conference and both times I have gone back to my company with to-dos."
"I enjoyed networking, was very impressed with the attention that was given to the needs of the merchant membership, and was challenged to determine how I can help shape the changes to the payments industry. The merchant only sessions were invaluable!"
"I thought it was very good. I have attended a different financial conference regularly for 20 years. This was more valuable due to smaller size and ability to network and learn critical knowledge and trends."
Visit the MAG website to view the 2017 Mid-Year Conference final attendee list, photos, program and sponsors.
MARK YOUR CALENDARS



"Chargebacks," the Ugliest Word in Payments
By Mark Horwedel, CEO, Merchant Advisory Group

Chargebacks are the latest assault on merchants by the networks and the card issuers. Chargebacks make a mockery of guaranteed payment to merchants and saddle merchants with what is likely the biggest single expense of issuing cards aside from cardholder rewards (which is already funded by merchants through the highest interchange rates in the world). Read the Full Article

Outlook on Durbin Amendment Repeal
By Liz Garner, SVP, Policy & Public Affairs, Merchant Advisory Group

While the Financial CHOICE Act does not appear to be as high of a priority for House leadership as healthcare and tax reform initiatives, it is still likely to be considered before the August recess. It is critical that businesses weigh in now with Members of Congress to voice support for keeping debit reforms fully intact. Read the Full Article

Evolution in Payments & Commerce
By Laura Townsend, SVP, Operations, Merchant Advisory Group

As the MAG matures and its scope expands to achieve its continued mission of driving positive change in the payments industry, we have added staff to support that growth. However, in order to accomplish its objectives, it is imperative that we engage subject matter experts among our membership to execute on goals that are most relevant to merchants as we deliver on that mission. Join me as part of a call to action to improve operational challenges that inhibit the successful progression of payments and commerce. Read the Full Article

Mobile Apps for Retail: A View from Across the Atlantic
By David True, General Manager, US, SEQR Mobile Payments

Talk of mobile payments has been taking up pixels in the payment press for years, and was creeping into the wider retail conversation even before Apple Pay arrived in October 2014. But in the U.S., using a mobile phone for in-store shopping is still the exception. Is it any different in the EU? Let's take a look. Read the Full Article

MAG Membership is Growing
By Kari Hartley, Director of Member Services, Merchant Advisory Group

The MAG's growth the past few years has been remarkable and it's because of the atmosphere each of you has helped create, an atmosphere of collaboration both among merchants and our sponsors. Read the Full Article

The MAG Welcomes New Member Stein Mart
By Chaka Cook, Sales Audit, Credit Settlement, and Bank Reconciliations Manager, Stein Mart

Stein Mart decided to join the MAG after attending the 2016 conference in San Diego. The conference highlighted the value we expected to receive: networking, the latest legal developments affecting payments, best practices, emerging technologies, etc. The professionalism and passion of the MAG and its members was very impressive and showed what we can do as a merchant to help shape the payments industry and its related legislations.
New Members
(Since December 2, 2016)

Speedway LLC
Hobby Lobby Stores, Inc.
JC Penney
Cox Enterprises, Inc
Meijer, Inc.
Whole Foods Market
Pilot Flying J
Ross Stores, Inc.
IKEA
View a complete listing of MAG Members
MAG Insights
The MAG publishes many whitepapers and press releases in the "MAG Insights" section of the website homepage. Make sure to visit the website often to view these important announcements.
Events and Education
MAG Educational Webinars
Also, mark your calendars for March 22nd when the MAG will present a webinar on Cyber Claims Overview & MAG eRiskHub Updates. Almost two years ago, the MAG launched the CyberRisk Hub portal for merchant members – your one-stop-shop for help in shoring up your cyber defenses and responding effectively to data breaches, network attacks and other cyber events. We hope that you have had the chance to view this valuable online tool. Register Today!

Chargeback Management: Three Servicing Tactics to Take Control of Customer Disputes
By Auriemma Consulting Group

Through an active marketing program, increased accessibility, and improved service levels, merchants can take control of the dispute flow - preventing unnecessary chargebacks and improving customer experience in the process. Read the Full Article
---
Mobile Payments Strategy Considerations for Retailers
By Christopher Mallardi, Senior Director, Retail Payments, Global Retail Payments

The emergence of mobile payments can no longer be ignored. Merchants interested in optimizing their customer experience, loyalty program and omni-channel sales strategies must start evaluating their objective, strategy and resources now. Read the Full Article
---
Why Refunds Take So Long

The MAG regularly engages in dialogue with the card networks seeking improvements in the card payment space. We refer to this effort as our Card Brand Operations Requests. One of Laura Townsend's responsibilities will be to lead this initiative. Kristy Cook serves as our Board Liaison and has helped guide our efforts to date.

Recently, a west coast TV station carried a story on one our key operational improvement requests – to require card issuers to post customer refunds on a "real time" basis. View story and video of the telecast.
---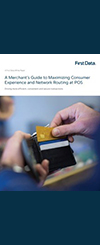 Merchant Best Practices for Configuring POS Terminals to Enable a Merchant's Network Routing Choice

In November 2016, the Federal Reserve Board published guidance regarding EMV® debit card transaction routing.

With issuers now accelerating their release of chip-enabled debit cards, merchants must take immediate steps to ensure that their POS terminals are configured to not only accept chip-embedded cards but also to preserve their debit transaction routing rights as provided under U.S. law. Read the Full Article



The MAG is On The Road
MAG CEO, Mark Horwedel; MAG SVP, Policy & Public Affairs, Liz Garner; and Laura Townsend, SVP, Operations, have been representing the MAG at many industry events:
Mark Horwedel

December 6-9: U.S. Payments Forum; Coral Gables, FL
February 2: NEAA; Boston, MA - Panelist
March 25-31: U.S. Payments Forum; Orlando, FL
April 23-27: Conexxus Annual Conference; Annapolis, MD
May 1-3: ACT Canada, CardWare; Niagara Falls, Canada
May 8-10: Card Forum Conference; Austin, TX
Liz Garner

January 12: Fed MPIW Meeting; Boston, MA
May 16: ISMG Fraud Summit; Washington, DC
Laura Townsend

March 8-9: Federal Reserve Secure Payments Task Force; Boston, MA
May 1-3: ACT Canada, CardWare; Niagara Falls, Canada
June 20: SMG Information Security Fraud & Breach Prevention Summit; Chicago, IL
June 21-22: US Payments Forum; Phoenix, AZ

SILVER Sponsor
Chargebacks911


Chargebacks911 provides the most comprehensive chargeback management services, which yield guaranteed results. Dynamic, scalable solutions are customized for more than 25 different industries with the flexibility to accommodate any payment method or sales tactic. Non-technical and API integrations generate quick and effortless results. Chargebacks911 has locations in North America, Europe, and Asia to support merchants throughout the card scheme's geographical service areas with on-demand, region-specific expertise.
Chargebacks911, a Global Risk Technologies company, was recently recognized as Customer's Choice Best Chargeback Management Solution and the company's patented technology was named Product of the Year.
SILVER Sponsor
Optimized Payments Consulting


Optimized Payments Consulting (OPC) is a 10-year old niche consulting firm that helps large corporations reduce and understand the cost of accepting credit/debit card payments. OPC has leveraged its industry expertise and proprietary software to help Fortune 1000 clients save over $150 million in card processing fees. OPC also offers consulting services relating to RFP management, chargeback reduction and payment analytics. OPC's web-based analytics consolidate, analyze and benchmark interchange and processing fee data from multiple acquirers, American Express, Discover, PayPal and private label cards.
SILVER Sponsor
STAR® Network


A Better Choice. A Better Value. Backed by the power of First Data®, the STAR® Network offers merchants choice for debit acceptance. Our full-service debit payment capabilities include pin debit, pinless under $50, and signature debit functionality for in-person and online commerce. Coupled with our new, innovative network fraud technology, we are committed to deliver merchants easier, faster and safer payments. Access to nationwide coverage at more than 1 million POS and ATM locations. First Data and STAR Network, at work for you.
Questions or comments? Contact the MAG at info@merchantadvisorygroup.org.