The MAG's newest eLearning class is now in session! The Merchant Advisory Group is excited to officially introduce Merchant Payments 203: Navigating Fraud and Chargebacks. This eLearning course is designed to enable the learner to effectively detect and analyze fraud in their environments while optimizing chargeback responses in order to minimize loss. At the end of this course, learners will exhibit the skills required to monitor and track key performance indicators and card product data to uncover potentially fraudulent transactions and successfully reduce fraud while preserving the customer experience.
This course expands upon the foundational learning delivered in Merchant Payments 101. Whether you are new to managing a payments program or are a veteran, you will benefit from the deep dive into Fraud and Chargebacks that MP203 offers!
Information regarding the course objectives, cost, estimated time commitment, and receiving a certificate is below.
COURSE OBJECTIVES:
Recognize various fraud approaches and the goals of bad actors, or fraudsters.
Identify which data to analyze and how to recognize and understand fraud patterns.
Assess, understand, and respond to chargebacks effectively.

COURSE COST:
All-Access Merchant Members: $99
Digital-Access Merchant Members: $149
MAG Sponsors: $199
All Others: $249

Bulk invoicing and pricing discounts are available when you elect to purchase multiple seats to the same eLearning course. For more details, please contact Leah Collins.
COURSE LENGTH: Approximately 1-2 hours.
CERTIFICATE: Upon completion of the content, there is a final exam. Participants are required to earn a 75% to receive a completion certificate.
Learn more about the MAG's Merchant Payments 200 level eLearning series: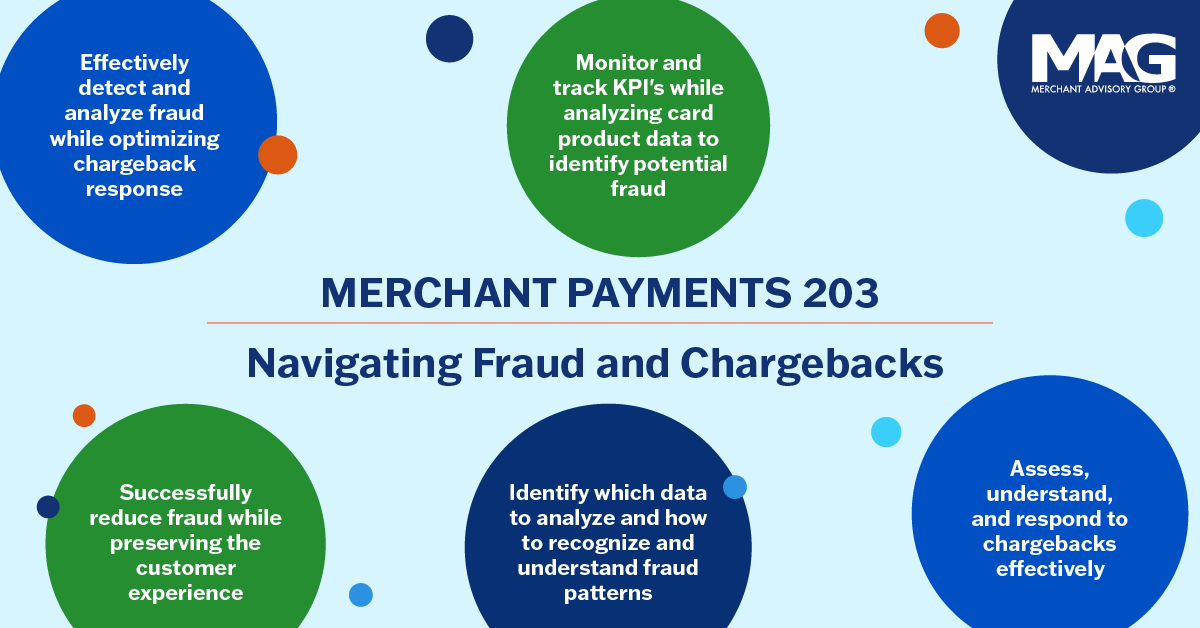 MERCHANT PAYMENTS 201 and 202 are open for Registration!
Merchant Payments 201: Managing Your Payments Program.
Merchant Payments 202: Exploring Card Types and Products.
We are excited to hear your feedback! If you have any questions as you take the course, please reach out to learningcenter@merchantadvisorygroup.org.