Although we can't predict what the new normal will be quite yet, it is likely certain that consumers are developing shopping habits based on necessity in this current environment. What additional changes are needed to adapt to this shift in consumer lifestyle changes and different shopping patterns?

The pandemic has impacted retailers in very dramatic ways. Some retailers have been shut down for a period of time, some are still open with reduced hours, while others have had to close their doors for good. Those retailers that remain are forced to offer customers not only convenience but safe payment experiences eliminating risk caused by interaction with other humans or surfaces. A business owner or operator that chose his/her career in retail to simply sell products and services over the counter has been forced to adapt to other commerce channels out of necessity to stay afloat. And consumers have been forced to change their buying habits out of necessity to get essentials of food and access to health care.

As consumers change their buying habits for the time being due to the pandemic, they are building a foundation for permanent change. It turns out that every habit starts with a psychological pattern called a "habit loop," which is a three-part process: a trigger (the pandemic), the routine (buy dinner for delivery, groceries for curbside pickup, or mobile order ahead my lunch), and the reward (convenience and safety).

These lifestyle changes resulting in shifts in shopping patterns will turn into habit forming behaviors.

Failing to adapt isn't an option for a retail business. Those that haven't already made strides to implement online or mobile commerce solutions quickly won't survive.
So, if failing to adapt isn't an option, what does the future look like for the retailer in this new normal?

To set the stage, retailers must educate themselves to be certain they approach the new normal with a foundation of facts. To begin, let's talk about the terminology being thrown about regarding touchless vs. contactless. Many publications and product sales teams talk about touchless and contactless experiences as if they were one in the same. As payments experts, we understand "contactless" is specific to a technology that must be installed/enabled by the retailer at the point of sale that does not require PIN or signature capture and also doesn't require physical contact of a card or payment device with the POS terminal. Touchless is a broad term for reducing or eliminating touchpoints at a POS terminal and it includes a variety of features including contactless, PIN-less, no signature, mobile order ahead, curbside pickup, buy online pickup in store, delivery, and more. So, although contactless is one option underneath a touchless strategy, it is not touchless in isolation. If a retailer requires the consumer to enter a zip code, loyalty number, confirm the purchase amount, or select debit vs. credit on the payment terminal, a contactless implementation alone will not eliminate these touchpoints.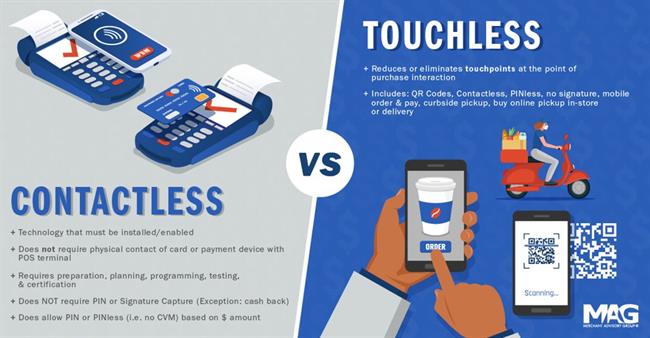 As retailers have and will continue to enhance their payment operations to support touchless experiences, a significant amount of purchase volume will continue to shift to card not present (CNP). Visa's publicly available Fiscal Third Quarter 2020 Financial Results show that the impact of COVID-19 has dramatically shifted not only Visa volumes from card present (CP) to CNP, but also from credit to debit. The latter may have been influenced by the government stimulus check disbursement; however, the trend seems to continue versus flatten on debit usage over credit – at least for the time being.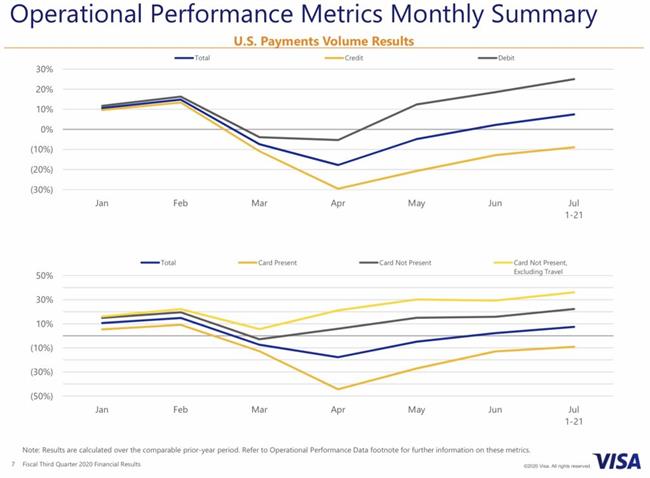 Payments experts understand that based on current network rules, policy, and pricing for CNP transactions, retailers incur a higher cost of acceptance as well as the vast majority of fraud risk/loss. Although retailers invest heavily in fraud mitigation tools (EMV for face-to-face and third-party fraud tools for digital commerce) and practices, merchants bear the greatest amount of risk with regards to liability especially in the case of digital commerce transactions. In addition, while Reg II made attaching an additional penny per transaction for fraud prevention allowable, 100% of fraud is still passed to the merchant in CNP despite those investments in fraud prevention the retailer has made. On top of all that, networks launched excessive fraud programs, resulting in some merchants hitting thresholds triggering fees, fines, and penalties in some cases, simply based on geographic locations that naturally have higher fraud.

As retail continues to innovate on creative cross-channel commerce experiences, whether by choice or not, rules, policies, tools and practices should support relevant authentication, verification, and fraud mitigation solutions such that the party providing final authorization approval assumes the liability for risk of fraud – a more balanced and equitable outcome of risk sharing. The industry is in need of modern programs to enable consumers to buy in one commerce channel and settle in another without sacrificing the customer experience or risk losing the consumer altogether as a result.

MAG has been focused on collaborating with industry stakeholders through MAG's best practice roadmap with regards to the convergence of CP/CNP and the need for modern rules and programs to support cross-channel commerce along with balanced risk and liability among the stakeholders. As we pursue these efforts, we are eager to hear from members interested in actively participating in these efforts.

To volunteer your engagement, please reach out to Laura Townsend. A collective merchant voice is much louder and more effective than a single merchant alone. Come join the effort.