The Merchant Advisory Group is excited to officially introduce Merchant Payments 205: An Exploration of Debit Routing. The new eLearning course covers maximizing the economic opportunities of an effective debit routing strategy through learning how to Interpret the US debit market, implement a debit routing strategy with appropriate processes and controls, understand the basics for completing a technical implementation of debit routing, and identify potential obstacles and considerations.
The MAG's newest eLearning class is now in session. Information regarding the learning objectives, cost, estimated time commitment, and receiving a certificate is below.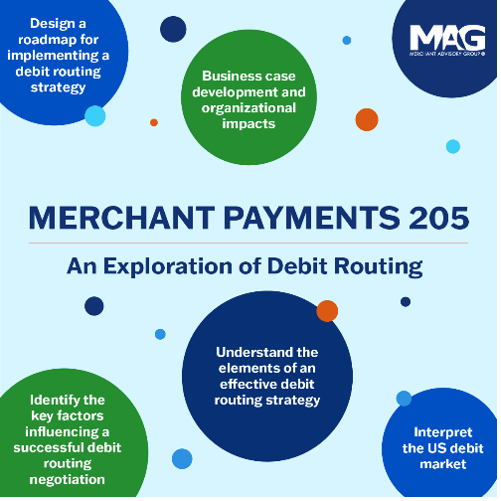 COURSE LENGTH: Approximately 1-2 hours.
CERTIFICATE: Upon completion of the content, there is a final exam. Participants are required to earn a 75% to receive a completion certificate.
LEARNING OBJECTIVES:
Identify and interpret the elements of an effective Debit Routing Strategy, including business case development and organizational impacts.

Identify and understand the key factors influencing a successful debit routing negotiation.

Design a high-level roadmap for implementing a Debit Routing Strategy with internal and external stakeholders.

COURSE COST:
All-Access Merchant Members: $99
Digital-Access Merchant Members: $149
MAG Sponsors: $199
All Others: $249
Bulk invoicing and pricing discounts are available when you elect to purchase multiple seats to the same eLearning course. For more details contact Leah Collins.
This is the final course in the MAG's 200 level eLearning series. All of these courses expand upon the foundational learning delivered in Merchant Payments 101. Whether you are new to managing a payments program or are a veteran, you will benefit from the deep dives these courses provide.
The Merchant Payments 200 eLearning series provides five engaging payments courses designed for anyone who is looking to increase individual skills in focused areas. Each course is designed to focus on a different topic including managing a payments program, card types/products, fraud, chargebacks, touchless payments, and debit routing.
Learn more about the MAG's Merchant Payments 200 level eLearning series by visiting the MAG's website. Stay tuned for more exciting educational offerings in the new year!
We would like your feedback! If you have any questions or comments, please reach out to learningcenter@merchantadvisorygroup.org.